"The Lord is my shepherd…to refreshing waters he leads me; he restores my soul." (Psalm 23)
February 6, 1814
Edward Sorin was born on February 6, 1814 at "La Roche" in the village of Ahuillé in the department of Mayenne. He was the seventh of nine children born to Julien Sorin and Marie Anne Louise Gresland.
After attending junior seminary in the town of Précigné in the department of Sarthe, the young Edward went on to the major seminary in Le Mans. It was there in 1836 that he first heard the call to serve the mission in Indiana (USA), a call delivered in person by Msgr. Bruté de Rémur, a Frenchman by birth and the first bishop of the newly formed Diocese of Vincennes.
May 27, 1838 and August 15, 1840
Edward Sorin was ordained a priest of the Diocese of Le Mans on May 27, 1838 and was assigned to serve as vicar in the parish of Parcé-sur- Sarthe. In the summer of 1839, he received the permission of his bishop to join the society of Auxiliary Priests, founded by the zealous and charismatic preacher, Father Basil Anthony Moreau, whom he had first met at the major seminary of Le Mans nearly five years before. On August 15, 1840 (feast of the Assumption of the Blessed Virgin Mary), in the small community chapel at Notre-Dame de Sainte-Croix, Father Sorin joined Basil Moreau and three other Auxiliary Priests in pronouncing religious vows.
The call to the Indiana mission was heard once again by Father Sorin, this time in the summer of 1839, when Célestin Guynemer de la Hailandière, newly consecrated bishop of the Diocese of Vincennes, came to Sainte-Croix in search of teaching brothers for the parish schools of the American frontier. Father Moreau eventually selected six Brothers for the mission: Vincent (Jean Pieau), Anselm (Pierre Caillot), Gatien (Urbain Monsimer), Joachim (Guillaume Michel André), Laurent (Jean Ménage), and François-Xavier (René Patois). They were three teachers, a tailor, a farmer, and a carpenter. As leader of the group, Moreau chose his beloved friend, Father Edward Sorin, a zealous, devoted, and fearless missionary. On August 5, 1841, feast of Our Lady of the Snows, after a departure ceremony in the community chapel at Sainte-Croix ("How beautiful…are the feet of the one…bearing good news, announcing salvation…" (Isaiah 52:7), the small band of men between the ages of 14 and 44, took a stagecoach to Le Havre, accompanied by Monsieur Dupont, friend of Basil Moreau who would later become known as "the holy man of Tours." Father Moreau's choice of Sorin for the mission to America was inspired, but a painful one for him. Shortly after their departure, he would write to him: "More than ever, I feel the loss that I have suffered in giving you to America. It is a sacrifice that has cost me tears for days."
The sailing ship "Iowa" set out from Le Havre on August 8, 1841. The seven men were housed in cramped quarters that they shared with 200 emigrants. The Iowa arrived in New York on September 13, 1841, and Father Sorin embraced the American land as his own.
After benefiting a few days from the hospitality of a recent convert to Catholicism – Samuel Byerley – the missionaries set out for Indiana mostly via navigable waterways, and arrived at Vincennes on October 10, 1841.
November 26, 1842
After a brief period staffing a mission to the east of Vincennes called Saint Peter's, Father Sorin and seven Brothers – Brother Gatien, Brother François-Xavier, and five new recruits (four Irish immigrants and an Alsatian) – made the journey north to the diocese's property known as Sainte-Marie- des-Lacs (Our Lady of the Lakes), the name given to the site by the first missionaries to the region. Arriving November 26, 1842, Sorin would later write to his friend and spiritual father, Basil Moreau:
"A few hours later, we were at Notre-Dame- du-Lac. It is from there that I write you now. Everything was frozen over. Yet it all seemed so beautiful. The lake, especially, with its broad carpet of dazzling white snow, quite naturally reminded us of the spotless beauty of our august Lady whose name it bears, and also of the purity of soul that should mark the new inhabitants of this chosen spot. Though it was quite cold, we went to the very end of the lake, and, like children, came back fascinated with the marvelous beauties of our new home."
The group took up residence in the small log chapel constructed years earlier by Father Theodore Badin, holding religious services on the second floor and working and sleeping on the first floor. There at Notre Dame du Lac (as Father Sorin called it), the men quickly moved to establish a collège. Inspired by praiseworthy missionaries such as Father Louis De Seille and Father Benjamin Petit, Edward Sorin was also zealous for the mission to the Native Americans in the region (the Potawatomi).
Edward Sorin was a man of vision. Daring and bold, he bounded forward with unfailing optimism and unyielding perseverance in the face of every obstacle; and of obstacles, there were many: language, inclement weather, disappointing harvests, epidemic and death, fire, war, lack of funding, financial crises, conflicts with his religious superior back in France as well as with bishops closer to home… Nevertheless, Sorin's persistence bore fruit, and rather swiftly at that. The collège was early on accorded the title of "university." In addition to local recruits, additional Holy Cross missionaries were arriving from Le Mans, including Marianites, the women's branch of the religious family founded by Father Moreau. Notre Dame gradually became a place of bustling activity, which included a manual-labor school, novitiates, gardens and orchards, swine and cattle. Student enrollment steadily increased, and in the course of time, academic offerings were expanded and additional buildings were constructed. Father Sorin was all along assisted by able collaborators in mission. In addition to the six Brothers with whom he traveled across the sea, others friends and coworkers over the years included François Cointet, Alexis Granger, Mother Angela (Eliza Gillespie) and her brother Neal Gillespie, William Corby, Auguste Lemonnier, and Michael Shawe.
Edward Sorin was a spiritual son of Basil Moreau. In spite of their clashes, he loved him as father and Founder. As "Americanized" as he was, Father Sorin remained marked by the French School of spirituality of his seminary education, which included devotion to the Sacred Heart of Jesus, and, in particular, to Our Lady (Notre Dame). In spite of occasional run-ins with Roman bureaucracy, he was also unswervingly loyal to the Pope.
Father Sorin believed that his work was blessed in a special way by the Providence of God and by Our Lady. He also believed in the promise of America. He was quick to adopt as his own the spirit of American optimism, and he was skilled at adapting the project of Holy Cross, which first emerged in France, to the particular circumstances of the American frontier.
In July of 1868, Father Sorin was elected Superior General of the Congregation of Holy Cross. As such, he saw to the expansion of Holy Cross in America, including the establishment of a successful Catholic college in Austin, Texas (St. Edward's). Sorin also oversaw the sale of the Community's holdings in Le Mans, which began the process of easing the Congregation's debt burden in order to establish financial well-being.
Statue of Fr. Sorin on the campus of the University of Notre Dame, Indiana.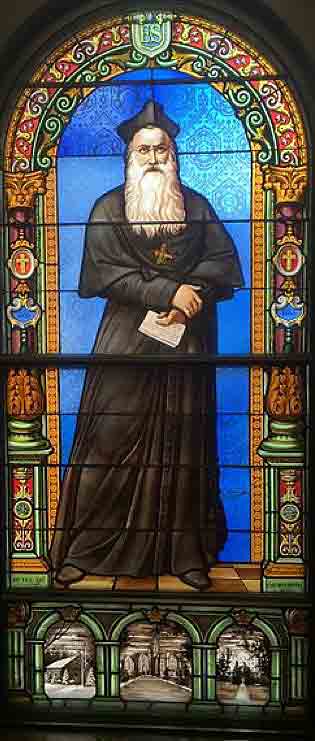 Stained-glass window of Fr. Sorin in Saint Edward's Hall, University of Notre Dame, Indiana.
October 31, 1893
On October 31, 1893, Edward Frederick Sorin, the religious and priest who labored so diligently in the vineyard of the Lord, breathed his last. The toil of this man of unceasing optimism and extraordinary resilience was finally ended, but the works he accomplished through the blessing of God and the protection of Our Lady continue to bear abundant fruit. He rests in the community cemetery, among his Holy Cross family, and beside the lake he had beheld carpeted with snow on that fateful November day in 1842.
"His master said to him, 'Well done, my good and faithful servant. […]
Come, share your master's joy.'" (Matthew 25:23)
IN MEMORIAM
Let others praise in him the saint,
The champion of our Christ and God;
Let others all his virtues paint…
For me, I love the poet best,
Idealist! Idealist!
Who sees beyond the clouds at rest
The clearer space with sunrise kist.
He was a dreamer of fair dreams;
A doer of great deeds was he,
And hence our Lady, golden, gleams
Above the oak and maple tree.
And hence She speaks to all the land
That Christ took flesh – this flesh of ours –
And ever stretches forth Her hand
Against the doubt of evil powers.
Poet, whose work can never die,
Because his Faith was never dim,
His songs he sings near the Most High,
The songs of poets seraphim.
His song on earth still lives for us…
(Maurice Francis Egan)
Information drawn from Edward Sorin, by Marvin R. O'Connell and from Le Père Edouard SORIN (1814-1893), fondateur de l'Université Notre-Dame- du-Lac (Indiana, Etats-Unis), by Father Charles Lemarié, C.S.C.