SHRINE OF BLESSED BASIL MOREAU
The Shrine welcomed a group of pilgrims from Saint Edward High School, Ohio, USA (Saint Ed's Battlefields II Tour 2022), led, as it has been for some years now, by M. Michael Perrins.
After visiting parts of Le Mans, including the Saint-Julien Cathedral, the group celebrated Mass at the tomb of Blessed Basil Moreau with Fr. Joseph Gansalvez, CSC.
According to the pilgrims, Fr. Joseph presided over a splendid service, which was enormously spiritual and very moving. Edsmen on Tour Lukas Kucera, Sean Krieg and Jacob Cook participated with various tasks and the whole group sang the Prayer of St Francis, Psalm responses, the Alleluia and "Cross Of Out Hope" (a song dedicated to Blessed Basil Moreau). Ave Crux, Spes Unica!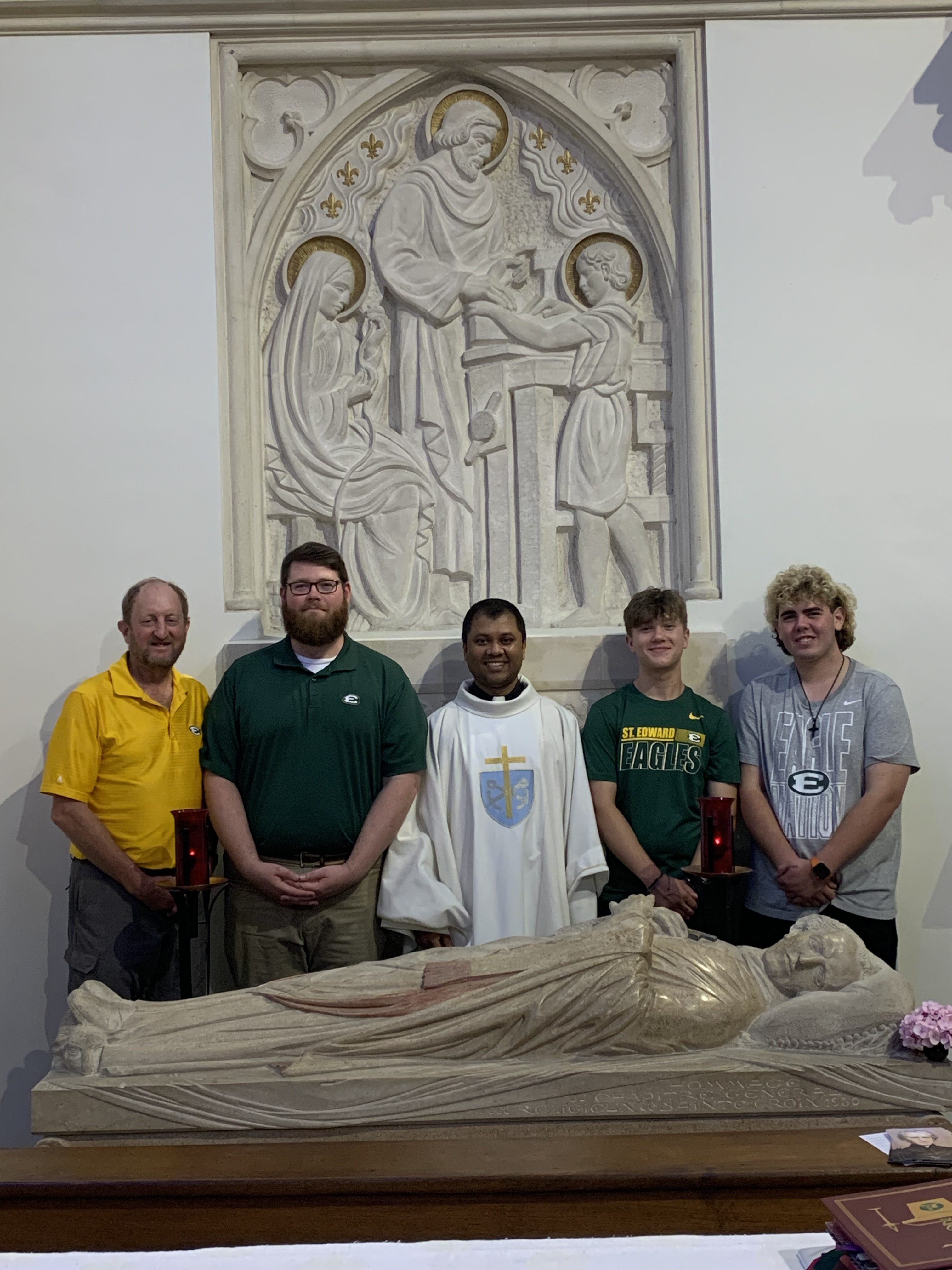 A few words from Brother Jacob Eifrid, CSC, that the Shrine had the joy to welcome:
"I am a temporarily professed Holy Cross Brother in formation at Moreau Seminary at the University of Notre Dame, USA.
I have the great privilege of spending my summer with the Holy Cross community in France while also discovering the many apostolates here like schools and also the Shrine of Blessed Basil Moreau.
While spending some time in Le Mans, I had the opportunity to renew my vows for the 3rd time in the Mother House of the Congregation of Holy Cross, the church of Notre Dame de Sainte-Croix, the church that Blessed Basil Moreau built to be a living testimony that Holy Cross alone exists as a work of God's Providence.
To renew my vows in this church next to the tomb of our Holy Founder was a very moving experience as I discern professing final vows as a Holy Cross Brother.
As I continue to discern and live religious life in Holy Cross, I rely on the intercession of Father Moreau as I, like him, seek to make God known, loved and served in Holy Cross."
A few pictures of the Parish Weekend, June 25 and 26, 2022.
Adoration was proposed Saturday night from 8pm to midnight.
Sunday, after Mass, a barbecue was organized in the gardens of the church.